---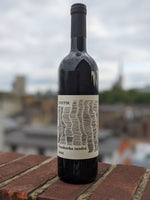 Single varietal Blaufränkisch. Harvest of 2009. Grapes hand harvested in 25+ years old vineyard growing over bedrock of rhyolite. De-stemmed grapes were crushed and let to ferment on skins for period of 4 weeks, throughout which the skins were daily mixed and punch through with fermenting juice.
After light pressing the wine was loaded to old oak barrel (cca 500L), where the wine aged for 7 years without any intervention. Wine bottled 2017, and continued bottle ageing in the cellars of winemaker. 
Red wine, of dark red colour, smooth and round taste profile of dark berry fruit, soft tannins and great acidity. 
Alc. 12%